31.12.2010 Silvester: Reinasseln 2011 *Freeparty* @ Tacheles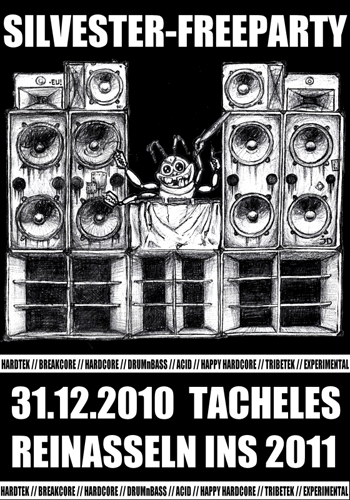 Reinasseln ins Jahr 2011 ++ Freeparty im Tacheles ++ Start 1Uhr im neuen Jahr

Live Acts:
Baseck [Darkmatter Soundsystem, LA]
The Tunk [Public Noise]
Electric Kettle [PeaceOff]
insane Zombie Flesh Eater [Mind Bender rec.]
Mr. 1337 [Negativ Rekord]
Ducra [Protek]
S.T.H [x-tractor]
Alifer [Noise Squad System, IT]
Konik Polny [Joprec.]

Dj´s:
Spootnik [Dikke Vinger Soundsystem, NL]
Rob [Protek]
Destrooy [Ikanani, JP]
Perlexer [Protek]
Larsay Fader [Droidsystem, IT]
Or Ze [Freelancer]
Tekamin [Lausch!]
Christoph Fringeli [praxis]
Evil Trust [Neuromantic Violations]
Cora S. [Mental Ind.]
Polonyum [HKS Crew]
FaTeR [Core-Board]
Gory Measure [Subotnik Kombinat]
Agent Pendergast [Old Skool Berlin]
LT [Cagliostro]
Geheimrat L. [Cyberrise]

Auf 2 Floors, mit Cocktail Bar und Anlagen von Affect und A_Sound
---
10.12.2010 Cagliostro & Datacide, Knochenbox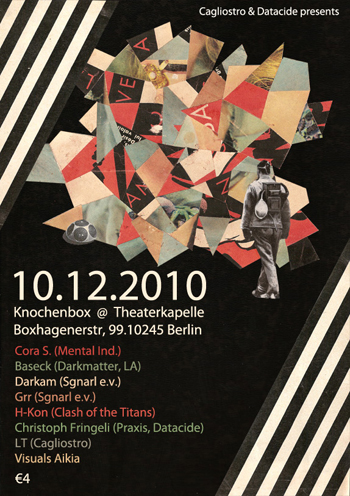 CORA S. (mental ind.)
BASECK (darkmatter, la)
DARKAM (sgnarl e.v.)
GRR (sgnarl e.v.)
H-KON (clash of the titans)
CHRISTOPH FRINGELI (praxis, datacide)
LT (cagliostro)

AIKIA visuals

Knochenbox @ Theaterkapelle
Boxhagenerstr. 99, 10245 Berlin
---
29.10.2010 AETR, Raum 20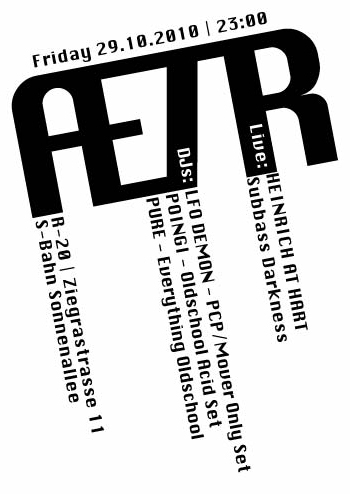 AETR

Live Act:
HEINRICH AT HART - Subbass Darkness

DJs:
LFO DEMON - PCP/Mover Only Set
POINGI - Oldschool Acid Set
PURE - Everything Oldschool

Friday 29.10.2010 | 23:00
R-20 | Ziegrastrasse 11
S-Bahn Sonnenallee

---
08.10.2010 Datacide & Cagliostro, Knochenbox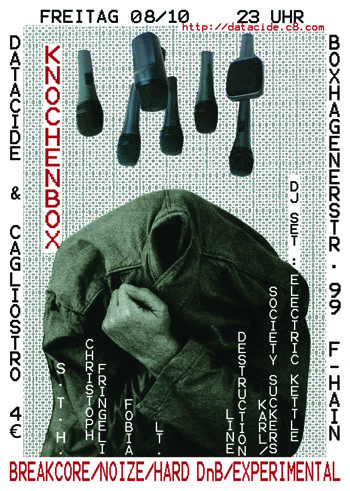 Datacide & Cagliostro present
Breakcore - Noize - Hard DnB - Experimental

S.T.H.
Fobia
Karl/Society Suckers
Line Destruction
Electric Kettle DJ set
Christoph Fringeli
LT

@ Knochenbox
Boxhagenerstr. 99 10245 Berlin F'hain
Start: 23H / 4 euros
---
01.10.2010 Project Mayhem @ S38 Katakomben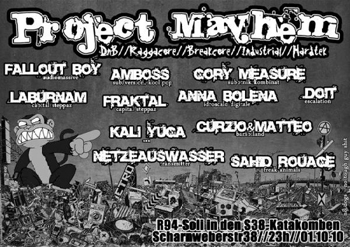 Anna Bolena (idroscalo digitale)
Amboss (sub/version, kool.pop)
Gory Measure (subotnik kombinat)
Laburnam (capital steppaz)
Fraktal (capital steppaz)
Sahid Rouage (freak animals)
Doit (escalation)
Kali Yuga (***)
Nautilus
Curzio & Matteo (bambiland)
Netzeauswasser (transmitter)
Fallout-boy (audiomassive)

Start 23:00
Location: Scharnweber str. 38
Soli für das Hausprojekt Rigaer94 in den Scharni38-Katakomben.

---
25.09.2010 Sounding Code @ Raum 20




Supercollider Symposium 2010
Sounding Code // Suppercollider Club Event // 22:00
LOCATION SWITCHED TO
Raum 20, Ziegrastrasse 11/13, Berlin

pre-midnight line-up:
CURTIS MCKINNEY(when the snake eats its tail)
TIMUR KUYANOV(www.soundcloud.com/kuyanov)
WORLD DOMINATION(www.kymatica.com/main/worlddomination)

post-midnight line-up:
CYLOB(www.cylobindustries.com)
BINRAY(www.myspace.com/binray)
SOMEK VS SKYLLA(www.myspace.com/skyllakorsett)
HEINRICH AT HART(www.myspace.com/martinmaischein)
DJ POINGI(www.myspace.com/djpoingi)

---
25.09.2010 Basspräsidium @ Odonien Köln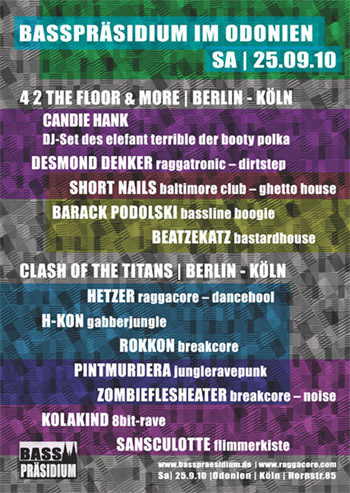 4 2 the floor & more, berlin-köln

CANDIE HANK dj-set des elefant terrible der booty polka
SHORT NAILS baltimore club - ghetto house
DESMOND DENKER raggatronic - dirtstep
BARACK PODOLSKI bassline boogie
BEATZEKATZ bastardhouse


clash of the titans, berlin-köln

HETZER raggacore - dancehool
H-KON gabberjungle
ROKKON breakcore
PINTMURDERA jungleravepunk
ZOMBIEFLESHEATER breakcore - noise
KOLAKIND 8bit - rave
SANSCULOTTE flimmerkiste

---
24.09.2010 Bogotrax-Soliparty @ Scharni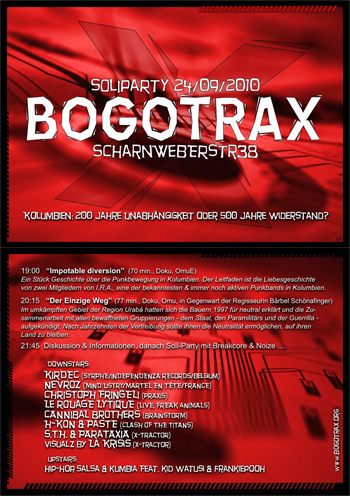 KiRDEC (syrphe/independenza records/belgium)
NeVROZ (mind´ustry/martel en tête/france)
CHRiSTOPH FRINGELI (praxis)
Le ROUAGE LYTIQUE (live, freak animals)
CANNIBaL BROTHeRS (brainstorm)
H-KON & PaSTE (clash of the titans)
S.T.H. & PARaTAXIA (x-tractor)

visualz by LA KRISIS (x-tractor)

bogotrax.org
---
18.09.2010 @ Bei Roy (ex-raum 18)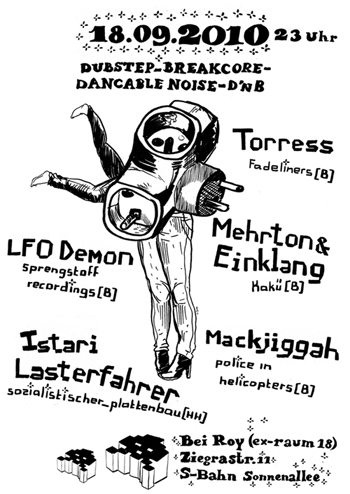 dubstep // breakcore // dancable noise // dnb
23.00 // bei roy (ex-raum 18), ziegrastrasse 11, s-bahn sonnenallee

TORRESS (fadeliners, B)
MEHRTON & EINKLANG (kakü, B)
LFO DEMON (sprengstoff recordings, B)
ISTARI LASTERFAHRER (sozialistischer plattenbau, HH)
MACKJIGGAH (police in helicopters, B)

---
17.09.2010, BOOM PROSTATE! @ Raum20, Berlin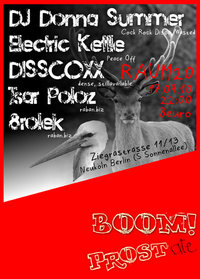 17.09.2010 @ RAUM20 (Ziegrastrasse 11/13)
22:00 - 06:00

DJ DONNA SUMMER (cock rock disco)
Clubkcore + Booty = Rave? Cock Rock Disco, Wasted, and Birthday Party Berlin madman likes to jump up and down a lot.
http://www.myspace.com/djdonnasummer

ELECTRIC KETTLE (peace off)
Mindblowing circus-jazz-surf-core from Peace Off Records and one of the best producers anywhere anyhow.
http://www.myspace.com/electrickettle

DISSCOXX (dense, stillavailable)
Legendary banging Dubstep/Idm DJ and co-owner of Dense Records- you know he's got the good stuff!
http://www.myspace.com/mariusreisser

TSAR POLOZ (raban.biz))
Trash techno songs with long moustache and a filthy rock & roll beard, straight from sunny and wealthy Poland. Veteran of mik.musik.!. label.)
http://www.myspace.com/tsarpoloz)

8ROLEK (raban.biz))
Another ex-mik.musik.!. - master of his own kind, from dubstep, through punk and electro to polish folk inspirations.)
http://www.myspace.com/8rolek)


---
09.09.2010 sansculotte vs dj lao wu @ Symposium Verbotener Film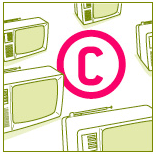 sansculotte is reanimating dead pixels
» more infos here

sansculotte vs. dj lao wu // 22:00
HomeBase Lounge, Köthener Straße 44, 10963 Berlin









---
27.08.2010 Datacide & Cagliostro Talks / Party




@ Theaterkapelle & Knochenbox, Boxhagener Straße 99, Berlin-Friedrichshain

DATACIDE & CAGLIOSTRO PRESENT:

DATACIDE TALKS (16h)
NEMETON - From conspiracy theories to assassination: Current manifestations in the radical American Right
CHRISTOPH FRINGELI - From subculture to hegemony: Transversal strategies of the new Right in Neofolk and Industrial

IN THE AREA
KINOBOX - The smalles mobile cinema in the world

THEATERKAPELLE (18-23h)
HECATE & RATBAG - Noise infused debauchery laden with tearing black metal vocals
CIRCUIT PARALLELE - Experimental live project involving electronik and acoustic sounds, deep atmospheres and strong feelings
YANN KELLER & ALESSANDRO QUINTAVALLE DUO - Yann Keller: Selfmade uprightbass, electronics. Allesandro Quintavalle: Uprightbass, electronics - industrial improvisation
CONFUS - Accidental chords with a drum sticktooth breaking for the masses
IRO - Audio: Infrasion. Video: Klabo. Audio video live set

KNOCHENBOX (23h-all night)
ZOMBIEFLESHEATER - Sonic Belligeranza
HETZER - Clash Of The Titans
TRAUM.A - X-Tractor
SEPPUKU - Nucleoroto, Dead Culture
ELECTRIC KETTLE & THE LABRAT - Peace Off/Labrat Audio
CANNIBAL BROTHERS - Brainstorm
PARATAXIA - X-Tractor
CHRISTOPH FRINGELI - Praxis
LA KRISIS - VJ

http://datacide.c8.com/
http://www.cagliostroberlin.de/
---
21.08.2010 Bassport @ Rosis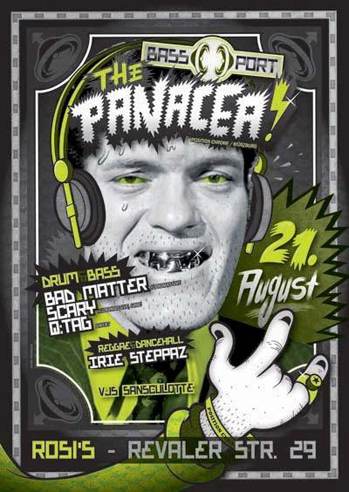 Rosis, Revalerstrasse 29

D'n'B floor:
THE PANACEA
SCARY
Q:TAG
BAD MATTER

VJs SANSCULOTTE

Reggae, Dancehall Floor:
IRIESTEPPAZ + COCTONE

Einlass 23:00 Uhr | 6 Euro
---
10.07.2010 Clash of the Titans @ Subversiv Hoffest



subversiv // brunnenstrasse 7 // berlin-mitte

LFO KUMON
ROKKON
HETZER
PASTEE
H-KON
AMBOSS

SANSCULOTTE_vj

---
11.06.2010: Datacide & Cagliostro Party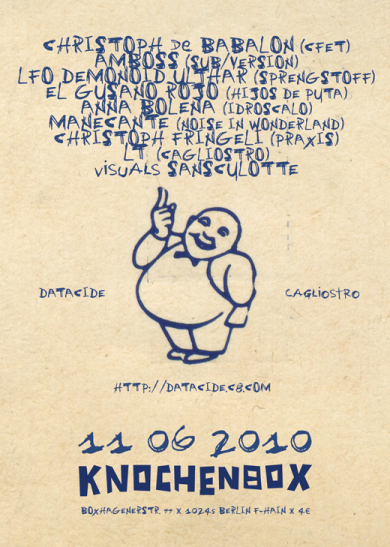 @ Knochenbox, Boxhagener Straße 99, Berlin-Friedrichshain

Datacide and Cagliostro Present:
Datacide Soliparty

* Christoph de Babalon (CFET)
* Amboss (Sub/Version)
* LFO Demonoid Ulthar (Sprengstoff)
* El Gusano Rojo (Hijos de Puta)
* Anna Bolena (Idroscalo Digitale)
* Manecante (Noise in Wonderland)
* Christoph Fringeli (Praxis, Datacide)
* LT (Calgiostro)
* Sansculotte (Visuals, Clash of the Titans)

Breakcore - Noize - Hard DnB - Experimental

Start: 23H / 4 euros
---
04.06.2010: Repression Killas @ Subversiv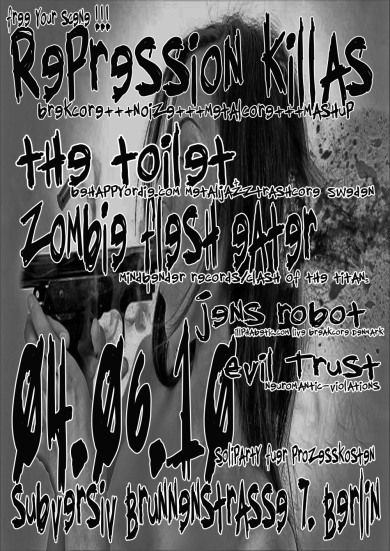 Prozesskosten Soliparty

sorry the toilet is not playing this time - instead its company fuck

an den Maschinen:
Company Fuck_live http://www.myspace.com/companyfuck // http://www.companyfuck.com/
ZOMBIEFLESHEATER
www.myspace.com/insane_zombieflesheater
JENS ROBOT_live
www.myspace.com/jensrobot // www.illphabetik.com
EVIL TRUST
www.myspace.com/nrviolations
TEKAMIN
www.myspace.com/nrviolations

los gehts um 23 Uhr - Eintritt: 5€
Subversiv // Brunnenstraße 7
---
21.05.2010: prkl! macht skweeertisch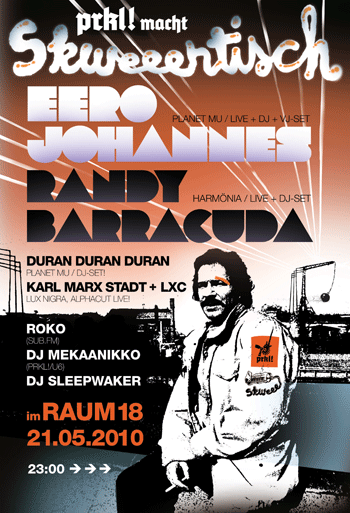 @ Raum 18, Ziegrastrasse 11, 12057 Berlin // 23 uhr
ACHTUNG FINDET AUF JEDEN FALL IM RAUM 18 STATT (technische probleme sind behoben)

EERO JOHANNES (planet mu / live + dj + vj set)
RANDY BARRACUDA (harmönia / live + dj-set)
DURAN DURAN DURAN (planet mu / dj-set)
KARL MARX STADT + LXC (lux nigra, alphacut live)
ROKO (sub fm)
DJ MEKAANIKKO (prkl/u6)
DJ SLEEPWAKER
---
15.05.2010: Cosmic Devastation




ZHARK INTERNATIONAL PRESENTS COSMIC DEVASTATION II - RISING FROM THE DEPTHS
@ RAUM18 - BERLIN Ziegrastraße 11, Berlin 12057

BASECK - Los Angeles Just added to the line-up - Baseck is one of the best turntablist I have ever witnessed - and This man is responsible for getting Hecate into Extreme Metal!!

VILE ENGINEZ- Basel
Zhark and Sub/Version recording artist with his first ever performance in Germany!

TOMOROH HIDARI - Wien
Another first ever Berlin performance, from Isolate and Record Label Records - This Viennese artist will deliver some of the sickest breaks and atmospheres you have yet to hear!

HECATE - Berlin
Zhark International's Head Mistress will be on-call with her mix of Satanic screams and terrifying breaks!

VINYL VANDAL - Scotland
Head of Noizetek Records from Scotland - once again with a debut performance in Berlin!

DIGIT 216 - NYC
Mastermind of NYC's "BARCORE PUNXX" - and one of the only promoters from America pushing the harshness we love to hear!

RAXYOR - NYC
Back one more time, Raxyor jons Digit 216 on their Euro tour!

IDISYNCRATIC - Italy
One-man CYBERTHRASH - that should say it all!!

LT - Berlin
Cagliostro owner and one of the best DJs for broken beats and speedcore in Berlin!

PLUS

Visuals from INVITRIOL from Vienna!
---
14.05.2010: Datacide And Cagliostro Party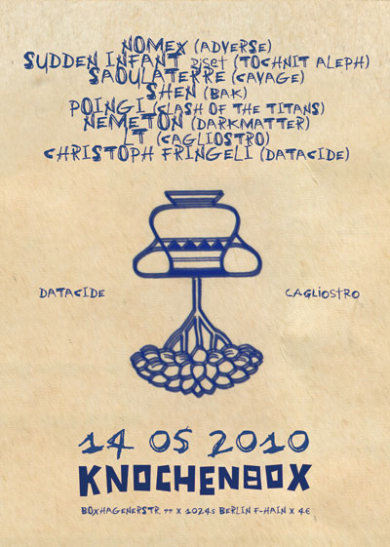 @ Knochenbox, Boxhagener Straße 99, Berlin-Friedrichshain

Datacide and Cagliostro present Breakcore, Broken Beats & Noise

The forth installment of our monthly night at the Knochenbox @ Theaterkapelle, Boxhagenerstr. 99, 10245 Berlin-Friedrichshain presenting the best in breakcore, broken beats and noise in Berlin presented by Datacide magazine and Bar Cagliostro.

The night will start around 11pm till around 6 or 7, entrance is EUR 4.00.

Proudly presenting the following special guests:

NOMEX - founder of Adverse Records and one of the organizers of the legendary Dead by Dawn parties in South London in the mid-90's is one of the hidden heroes of noise music. Now a resident of New Zealand this is a rare European show. Classic breakcore noise records such as both releases on Maschinenbau with DJ Scud (Eurostar and Total Destruction), releases on Praxis and Reverse as well as Adverse show his ability to second-to-none sonic assault.
http://www.myspace.com/nomex.adverse

SHEN - Forceful crossover of breakcore and hardcore reknowned for his contributions to Dutch and French underground hardcore labels such as Power Vs. Power, Homicide and B.A.K. with his first set in Berlin.
http://www.myspace.com/shenbak

SAOULATERRE - founder of Cavage records and author of "Paname Sans Dessus - Dessous!", the definitive book about the Paris catacombs and their subterranean counterculture, and purveyor of psychedelic experimental soundscapes and speedcore - already our guest in March is back with a new live set this month.
http://cavage.c8.com/

NEMETON - member of L.A.'s Darkmatter Soundsystem and Datacide writer presents her hard hitting mix of breakcore, hard drum'n'bass and broken industrial dubstep beats
http://darkmattersoundsystem.com
http://www.myspace.com/pendragon16

SUDDEN INFANT - just came out with a momentous 4xLP as a 20-year retrospective of his groundbreaking work in noise performance. Tonight he will DJ his favorite tunes in an eclectic mix of beats and atmospheres.
http://www.suddeninfant.com/frameset.html

POINGI - Crew member and resident DJ of Berlin's Clash of the Titans crew will surprise us with an unpredictable set of hard electro.
http://www.myspace.com/djpoingi

plus residents:
LT - radical dancefloor between hard drum'n'bass and hardcore
http://www.cagliostroberlin.de/

CHRISTOPH FRINGELI with rare industrial grooves from his 7" collection
http://datacide.c8.com

---
01.05.2010: Not your monkey not your robot @ Arnhem, Holland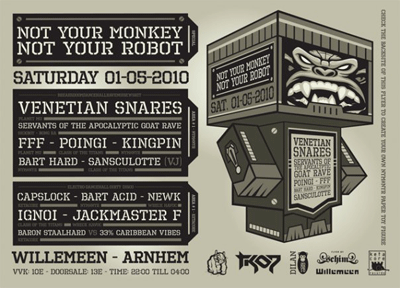 ROOM I: breaksdoomdancehallravenoise'n'shit:
Venetian Snares (Planet-mu, History Of The Future)
Servants Of The Apocalyptic Goat Rave (Russian Roulette Recordings)
FFF (Orange Socks, Mindbender Records)
DJ Poingi (Clash Of The Titans)
King Pin (Not Your Monkey Not Your Robot)
Bart Hard (Not Your Monkey Not Your Robot)

VJ: Sansculotte (Clash Of The Titans)

ROOM II: Ketacore's gezellige dansfeestje - kontschudden verplicht!
Bart Acid (dirty disco & more)
Capslock (electro set!)
Newk (heavy electro)
Jackmaster F (Chicago house)
Baron Staalhard vs. 33% Caribbean Vibes (dancehall/reggeaton/urban)
Poingi (Italo)

where:
Willemeen // Willemsplein 1 // 6811 KA Arnhem // Netherlands

presale: 10 euro // doorsale: 13 euro
open from 22:00 till 04:00
---
30.04.2010: Neuromantic Violations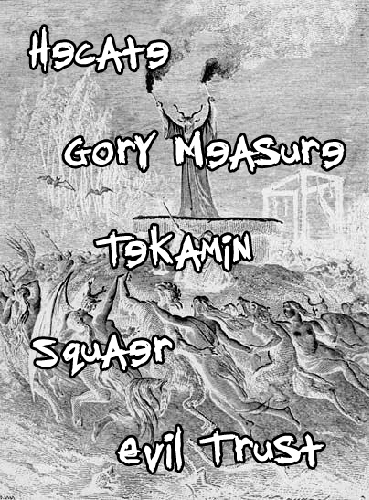 @Lauschangriff, Rigaer Straße 103, Berlin-Friedrichshain

Neuromantic Violations presents:

* Hecate (Zhark International)
* Gory Measure (Subotnik Kombinat)
* Tekamin
* Squear
* Evil Trust (Neuromantic Violations)

breakcore - satanic noize - hard dnb

start 22h

satanische hexennacht im lauschi mit speziellen getränken...
zaubersprüchen und apokalyptischen sounds...
kostümierung erwünscht...
EVIL TRUST and friends and all the witches from f-hain
---
29.04 - 02.05.2010: Cannibal Caniche Berlin Festival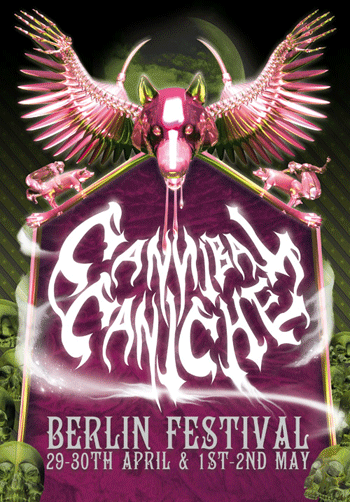 Cannibal Caniche is a collective promoting any kind of free music ! Come and discover through this festival artists from many geographical and musical horizons.

Thursday, Apr.29 @ Raum18

// Room 1 \\
John Makay / math rock
Grand Predateur / post metal war machine
Warsawwarsaw / noise trash manifesto
A.N.T.I. / arbre nuageux terrestre industriel / harsh
Manécante / krashtest / hijos de puta
Lain / ambient-speedcore
LT / cagliostro
Ucture / ambivalence
RYBN / audiovisual noise
Anna Bolena // idroscalo digitale - video installation

// Room 2 \\
Yann Hekate / experimental hiphop - downtempo
Company Fuck / Noise Karaoke
Christoph Fringeli / exp break djset
Monsieur Connard / electronica/exp hiphop
Dasha Rush / downtempo/electronica
Letal Ataraxia / exp downtemp
Kirdec / experimental breaks - field recordings
Bombyx / ambientpostindustrialspeedcore with guitar
Hecate / Yann keller / Ratbag / freaky industrial-break
Akinetik / visuals
KLABO / visuals


Friday, Apr.30 @ Rauchhaus

// Spukkomune \\
Rinus van Alebeek vs Tzii / tapes manipulation
Anton Mobin vs Dincise / free improvisation
Kro de la Bestiole / bugged TV performance
Th-Th / nerdy noises

// Keller \\
Christoph de Babalon / atmospheric dark breakcore
isAAAc / amiga destruction
GVK /industrial break/hiphop
Gouffre d'un pôle à l'autre / dirty harsh noase
Charlie Sensation / coldwave/electronica
Syd / exp djset
Marshall Reptilos / prophetic absynth primitive music
Unas / 8bit grindcore micropunkerotic show
Line Destruction / exp-ambient-noise
Vidio Atak / visuals
mysh3l / visuals
Luca Carrubba aka Husk / visuals


Saturday, May.01 @ Raum18
// Room 1 \\
Paroxysm of Anxiety / ritual darkambient
Niedowierzanie / drone improvisation with doublebass
Planetaldol / Psychotic Dark Ambient
Dawamesk / darkambient
Lifeloop / "Reel Tape Lie Detector"

// Room 2 \\
Electric Kettle / breakcore
Nomex / ritual-noise-break
Psyko-Pal / chiptunes dancefloor
Homologation Korea Nord / industrial
Massicot / noise rock
Mental D-struction / ambient atmospheric speedcore
Sim on Korfunkle / holygabber
Le Matin / oldskool electro
El Gusano Rojo / exp-noise
Julien Millot / i burn my hairs performance
D-Phaz / visuals
Brilliant Beast / visuals


Sunday, May.02 @ Loophole (After Party)

Dasha Rush / downtempo/electronica
Cancelled / Vapours Lo-Fi
Brian / experimental/electronica/surf
h. / glinglitch
GB aka Gateaux Blaster / ritual Lo-Fi
Anita / merrygoroundandround
onefuckone / apocryphowl
BadTripInc. / gentlemen's disagreement
t.i.A [://mnmldiskotek]


Workshops

Speech about free music by christoph fringeli and tzii

Presentation of Qeve (open source video software designed in pure data) by Luca Carrubba aka Husk estereotips collective @ Rauchhaus (17h > 19h)

D.I.Y. Analog synth creation workshop
(2 days : on Friday and Saturday, 4 hours each day)
Limbus Europae, corner Kienitzer Strasse / Weisestrasse (Neuköln) please contact j.millot AT stupiddesign DOT fr for inscriptions by Julien Millot( www.stupiddesign.fr/ )


Decoration and Exhibition by:

Gorellaume
Myshel // Djemija // Kuny
Ian Liddle
La Plèvre // Nostyle Fuckers

---
17.04.2010: FUCK MINIMAL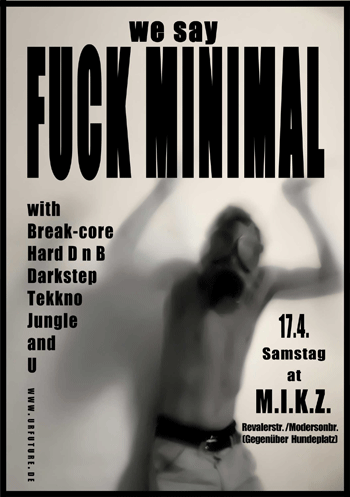 @ MIKZ. Revaler Str. 99. 10245 Berlin (Friedrichshain)
Einlass 0:00 Uhr | 6 Euro
Breakcore, Hard Dnb, Darkstep, Techno, Jungle

FLOOR 1 :
0.00-2.00 SURPRISE
2.00-3.00 DR NEXUS
3.00-4.00 SHEMALES FROM OUTERSPACE OF DEATH
4.00-5.00 BLOODYCLOWN
5.00-6.30 FEXOMAT (NSF/ FUTURESICKNESS/DARKSTEP.ORG)
6.30-8.00 S.T.H. X-TRACTOR.COLUMBIA
8.00-9.00 O'LIVE (ALLIGATOR).FRANCE
9.00-10.30 JUNGLE
10.30- ? ENDE OFFEN

FLOOR 2:
MATHIO
.WLG (AHMED'S HOFPARTY)
KON.SEQUENZ (STEREO BERLIN)
EVIL TRUST ( neuromantic-violations )

---
17.04.2010: Subversive Audio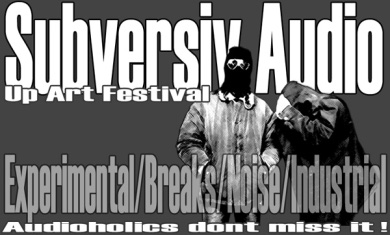 @ Raum18, Ziegrastr. 11/13, Berlin-Neukölln

DRUM & BASS FLOOR
Start 0:00h
Scary (SRBE/Tr.I.M/Audiomassive)
Yoru (Capital Steppaz)
Flare 5 (Basstion)
Mo (Audiomassive)

Visuals
Hilja

Start 22:00h
Hint (StØrfan sender, Normisson + da-crap) (Berlin based aliens...Hint plays the soundtrack for 'The Man With The Movie Camera' an improvisational approach to soundtracking Dziga Vertovs: Chelovek s kino-apparatom (1929); start sharp 10pm)
Andrea Lange & Michael Dudek (experimental audio visuals)


EXPERIMENTAL/BREAKS/BREAKCORE/NOISE/INDUSTRIAL FLOOR
Ground Zero: absolutely live
Frank Bretschneider performing EXP (Raster Noton/ Audio/Video)
Dead Heideggers (an industrial accident / Fundamentalaudiologie am Großrechner)
Jörg Maria Zeger & Oori Shalev (Powerscapes) (git/fx & drumming)
Semerssuaq (DJ WJM/JD Zazie) (cdjs/md/mixer/mic + cdjs/mixer)
Yann Keller Projekt (selfmade electronic/steelbass/schattensynthi/drumsnoise/core/metalgrind)
Last Dominion Lost (ritual Industrial)
Kommando Kaspar Hauser (White Voodoo)

On a break run
Mat Pogo (Jealousy Party)
Base Force One (Praxis/Datacide)
Nemeton (Darkmatter Soundsystem Los Angeles__deep breakcore Djane)
Cannibal Brothers (Zhark int)

Visuals
Fragment (TOB - Transmitting Object Behaviors)
Rampazzo (Interflug galaktika)

http://www.raum18-berlin.com
http://www.subversivaudio.de.vu

powered by GEMA Killer
deko by SEK Max Stirner
hosted by Deltaconnection
---
10.04.2010: Deadsilence Syndicate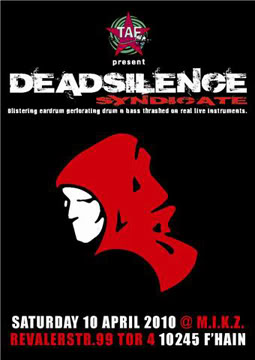 @ M.I.K.Z., Revaler Str. 99, Berlin-Friedrichshain

FLOOR 1
KIFFERMAN´S FRIEND - experimental punknoise.de
ROM + YANN KELLER & JAN SCHLAEGER - instrumental experimental jta/de

CHRISTOPH FRINGELI - praxis records
WILL THE REVEREND - hekate/dead silence.uk

DEADSILENCE SYNDICATE - uk
RAT-C - joprec / M.I.K.Z.
DJ SKA - souldraveyard

FLOOR 2
AAFJE - terrax.nl
ANNETTE - mononom.nl
SIULI KO - industrial funk.nl
REBELICIOUS - mononom.nl

Entrance: 5 EUR

http://www.deadsilence.co.uk/
http://www.myspace.com/mikzberlin
---
09.04.2010: Bennis Coming Home Party

@ Rauchhaus, Mariannenplatz 1A, Berlin-Kreuzberg

* deadsilence syndicate - live band from london / blistering eardrum perforating drum and bass thrashed on real live instruments
* the reverend - hekate/dss uk
* christoph fringeli - praxis
* siuli k.o - holland
* ftodt - holland
* seven detrente - berlin

+ cocktail / bar / visual / deco

Entry: 3 EUR

http://www.rauchhaus1971.de/
---
02.04.2010: Datacide And Cagliostro Party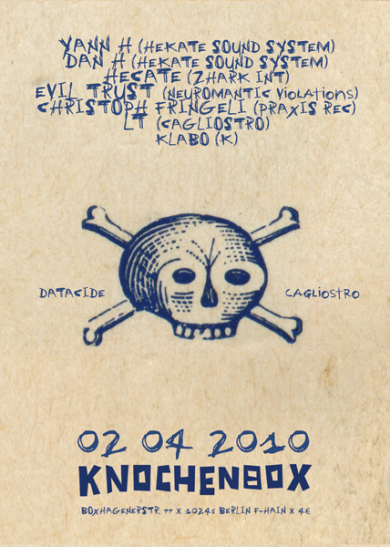 @ Knochenbox, Boxhagener Straße 99, Berlin-Friedrichshain

YANN H (Hekate Sound System)
DAN H (Hekate Sound System)
HECATE (Zhark Int)
EVIL TRUST (Neuromantic Violations)
CHRISTOPH FRINGELI (Praxis Rec)
LT (Cagliostro)
KLABO (K)

http://datacide.c8.com/
http://www.cagliostroberlin.de/
---
27.03.2010: Assel Of Darkness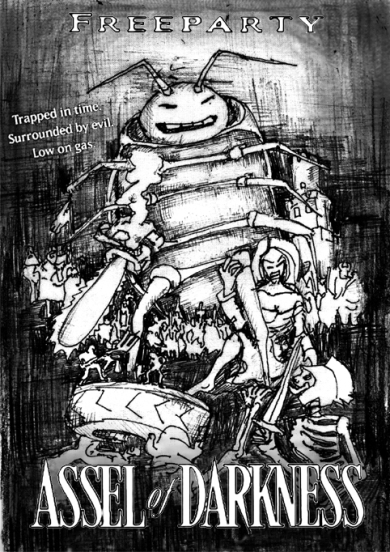 @ Drugstore, Potsdamer Straße 180, Berlin-Schöneberg

LINEUP
The Tunk *live*
Mr. 1337 *live*
Sub Kult *live*

VINYL
Hecate [Zhark int.]
LT [Cagliostro]
H-Kon [Clash of the Titans]
Evil Trust [Neuromantic Violations]
Christoph Fringeli [Praxis]
Geheimrat L [Cyberrise]

Hardtek // Breakcore // FreeParty
---
12.03.2010: Datacide And Cagliostro Party @ Knochenbox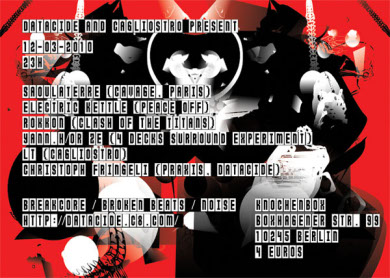 @ Knochenbox, Boxhagener Straße 99, Berlin-Friedrichshain Datacide And Cagliostro Present * SAOULATERRE (Cavage, Paris) * ELECTRIC KETTLE (Peace Off) * ROKKON (Clash Of The Titans) * YANN.H/OR ZE (4 Decks Surround Experiment) * LT (Cagliostro) * CHRISTOPH FRINGELI (Praxis, Datacide) Breakcore / Broken Beats / Noise
---
27.02.2010: Takketek @ Arnhem, Holland

22:00 - 05:00
Jongerencentrum WillemEen
Arnhem

french tek, frenchcore, industrial hardcore, tekno

LINEUP:
Collision, D-Tox (IT), Teknoist, The Sickest Squad, Trypod, Live: Cemtex, Live: Progamers, Bart Hart, FFF, Joyo, Leviathan, Mendeaz, Stefan ZMK, Apzolut, Digital Scaramouch, Live: Meldy Peaches, Live: Nano.strike, Live: Rioteer

visuals: sansculotte (clash of the titans)
---
26.02.2010: The Centrifuge 3rd Birthday with Bogdan Raczinski @ Tacheles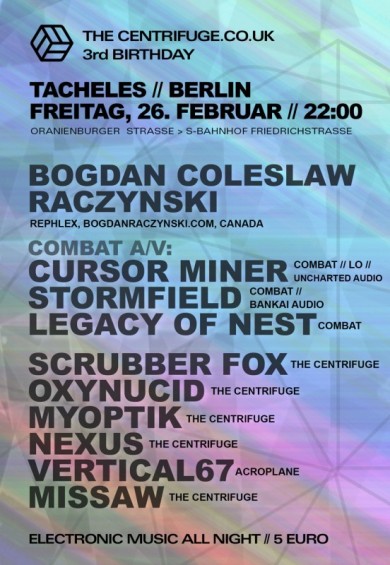 Berlin Fri 26 Feb @ Tacheles, Oranienburger Str. 54-56a

Bogdan Raczynski (Rephlex, bogdanraczynski.com, Canada)
Cursor Miner (Lo, Combat, Uncharted Audio)
Stormfield (Combat, Bankai Audio)
Legacy of Nest (Combat)
Scrubber Fox (The Centrifuge)
Oxynucid (The Centrifuge)
Myoptik (The Centrifuge)
Nexus (The Centrifuge)
Vertical67 (Acroplane)
Missaw (The Centrifuge)

Beginn: 22:00 Uhr
Eintritt: 5 Euro !!!

Check also http://www.thecentrifuge.co.uk/
---
19.02.2010: Lacerated Fragments @ Scharni38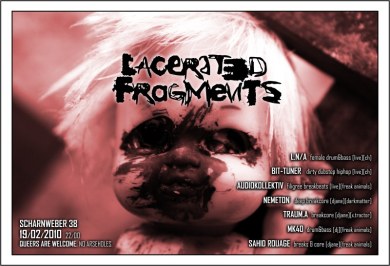 19/02/2k10 // 10pm
toxique catacombs at scharnweber 38 // berlin friedrichshain

lineup:
L.N/A - female drum&bass – live (switzerland)
BIT-TUNER - dirty dubstep hiphop – live (switzerland)
AUDIOKOLLEKTIV - filigree breakbeats – live (freak animals)
NEMETON - deep breakcore – djane (darkmatter, los angeles)
TRAUM.A - breakcore – djane (x.traktor)
MK40 - fluffy drum&bass – dj (freak animals)
SAHID ROUAGE - breaks & core – djane (freak animals)

we will have a dark descended decoration of LABORATORIO TOTAL, a warm location, nice drinks and champaign, a strong soundsystem, strobe, fog and rough musique. get a free drink with a impressive dress. queers are invited, we dont wanna have arseholes and tough dudes. soli for construction site. our nonprofit rooms needs some material.
---
05.02.2010 Soliparty Bogotrax, Köpi Keller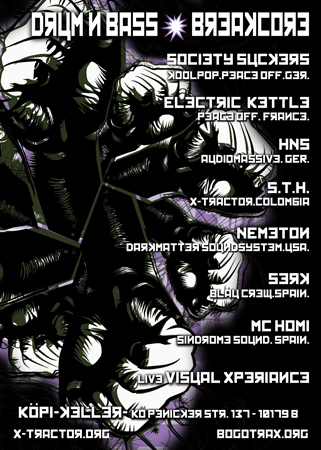 Soliparty Bogotrax (Festival von elektronischer Musik, mixture of social action, street-arts and... in der Hauptstadt Kolumbiens Bogota)

Society Sucker_live breakcore_Germany
Electric Kettle_Live breakcore_France
HNS_Dj-Mix dub'n Bass_Germany
STH_live drum'n Bass_Colombia
Nemeton_Dj-mix breakcore_USA
Serk_Dj-Mix drum'n bass_Spain
Mc Homi_Spain

Köpi Keller: Köpenickerstr. 137
S-Bahn: Ostbahnhof.

Mehr Infos: http://x-tractor.org
---
30.01.2010 Bassport, Rosis




Drum and Bass Floor:
COUNTERSTRIKE (algorythm recordings / southafrica)
MO (audiomassive)
REGER (40 fever)
MC COPPA (subdivision, shadybrain, uk)

VJ SANSCULOTTE (clash oft he titans)

Reggae, Dancehall Floor: SWS
---
22.01.2010 Brainstorm, Raum 18




@ Raum 18, Ziegrastrasse 11, Berlin-Neukölln

Fundraiser for the printing of Datacide magazine 11

FLOOR 1: DUBSTEP
NOIZE CREATOR (suburban trash, dresden)
GEROYCHE (ruff-e-nuff, chemnitz)
NEUROSIS ORCHESTRA (sprengstoff, berlin)
WARLOCK (rag & bone, london)
STAGGA (rag & bone, wales)
D.I.S. (ruff-e-nuff, chemnitz)

FLOOR 2: BREAKCORE
DJ SCUD & CHRISTOPH FRINGELI (ambush/praxis, london)
BASE FORCE ONE (datacide, praxis)
ZOMBIEFLESHEATER (sonic belligeranza, westerwald)
AMBOSS (subversion, berlin)
NEMETON (darkmatter, los angeles)
GVK (martel en tete, bruxelles)
CANNIBAL BROTHERS (zhark int., berlin)
TRAUM-A (x-traktor, berlin)

VISUALS
SANSCULOTTE (clash of the titans, berlin)

---
15.01.2010 Breakcore - Broken Beats - Noise, Knochenbox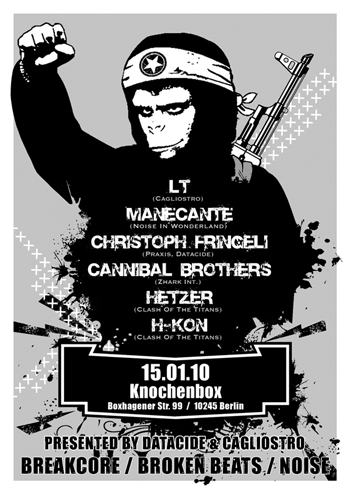 presented by datacide & cagliostro
breakcore - broken beats - noise

15.01.2010, Knochenbox, Boxhagenerstr. 99, 10245 Berlin

LT (cagliostro)
MANECANTE (noise in wonderland)
CHRISTOPH FRINGELI (datacide, praxis)
CANNIBAL BROTHERS (zhark int.)
HETZER (clash of the titans)
H-KON (clash of the titans)

---